From November through March, the Oregon coast is renowned for its wild and dramatic storms. In addition to the tempestuous weather, king tides, or especially high tides, bombard the shores and make for adventurous viewing.
Up and down the coast, many locales highlight their exposure to these extreme tides and winter storms. The rocky, southern Oregon coast is ideal for watching the waves as they crash against the jagged rocks and splash the ocean's salty waters hundreds of feet into the air. Standing on a bluff above the ocean in calm weather, you'd be amazed by knowing waves can soak you during these extreme high tides.
In the town of Bandon, watching the high tides roll into the Coquille river and past the lighthouse can take your breath away. Beach Loop Drive, skirting around Bandon, offers many rocky beach locales for stopping and watching. Face Rock especially is always beautiful, no matter wind, rain, high tide, storm or sunshine.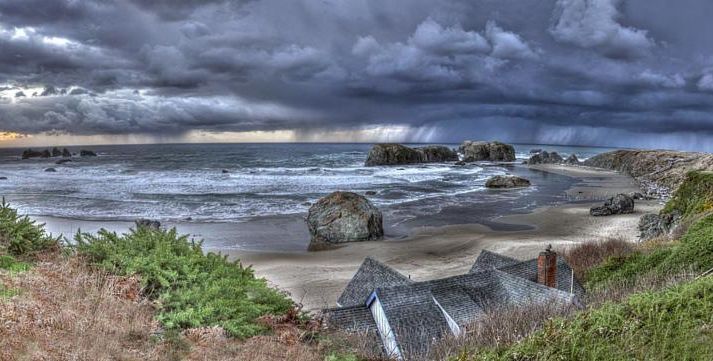 Storms are hard to predict far in advance, but high tides are not. For the 2022-2023 winter season, king tides arrive on the Oregon coast December 22-24, January 20-22 and February 19-20.
When planning your stay in Bandon, you'll find many oceanfront lodging choices to keep you close to the action. One choice, Sunset Motel, has been hailed on travel sites as one of the premier locations to storm watch on the Oregon Coast.
So, pack your raincoat and plan your winter getaway in Bandon to watch the storms and king tides roll in. Once you dry off, sit back in your room, relax and enjoy listening to the roar of the ocean as the storm passes by. You'll be glad you did.
And remember, there's always a rainbow to be found after the storm.