For the Birders: Birding In and Around Bandon
Pacific shorebirds attract birdwatchers to Bandon throughout the year. Birds flock to Bandon's nearby beaches, estuaries, and intertidal marshes to find nesting grounds or a migratory resting place. Inland from the coast, the many wild rivers and old-growth forests provide an excellent opportunity for spotting woodland and river birds.

Day 1: Birding
In Bandon
Bandon Marsh
Begin your Bandon birding experience at the Bandon Marsh National Wildlife Refuge, a tidal-marsh system offering a year-round wildlife experience. Within Bandon Marsh and Ni-les'tun Wildlife refuges, birders can observe multiple species of shorebirds, waterfowl, songbirds, and birds of prey. In April and August, the marsh attracts rare shorebirds and serves as a feeding and resting stopover for many migratory species.
The marsh observation deck is withing walking distance from Old Town. Head north for one mile on Riverside Drive at the east end of 1st Street. To reach the Ni-les'tun unit observation platform, drive north on Hwy 101 and turn east onto North Bank Road, just north of Bullards Bridge. Drive one mile to the paved viewing area on the right.
Coquille River Valley
Continue your drive on North Bank Lane as it follows the Coquille River past flooded pastures and small wetlands. Drive 15 miles to Hwy 42 and turn right towards Coquille. Drive 5 miles and take Hwy 42S back along the river to Bandon. This scenic loop is best from fall through spring when the river and surrounding fields teem with wintering waterfowl.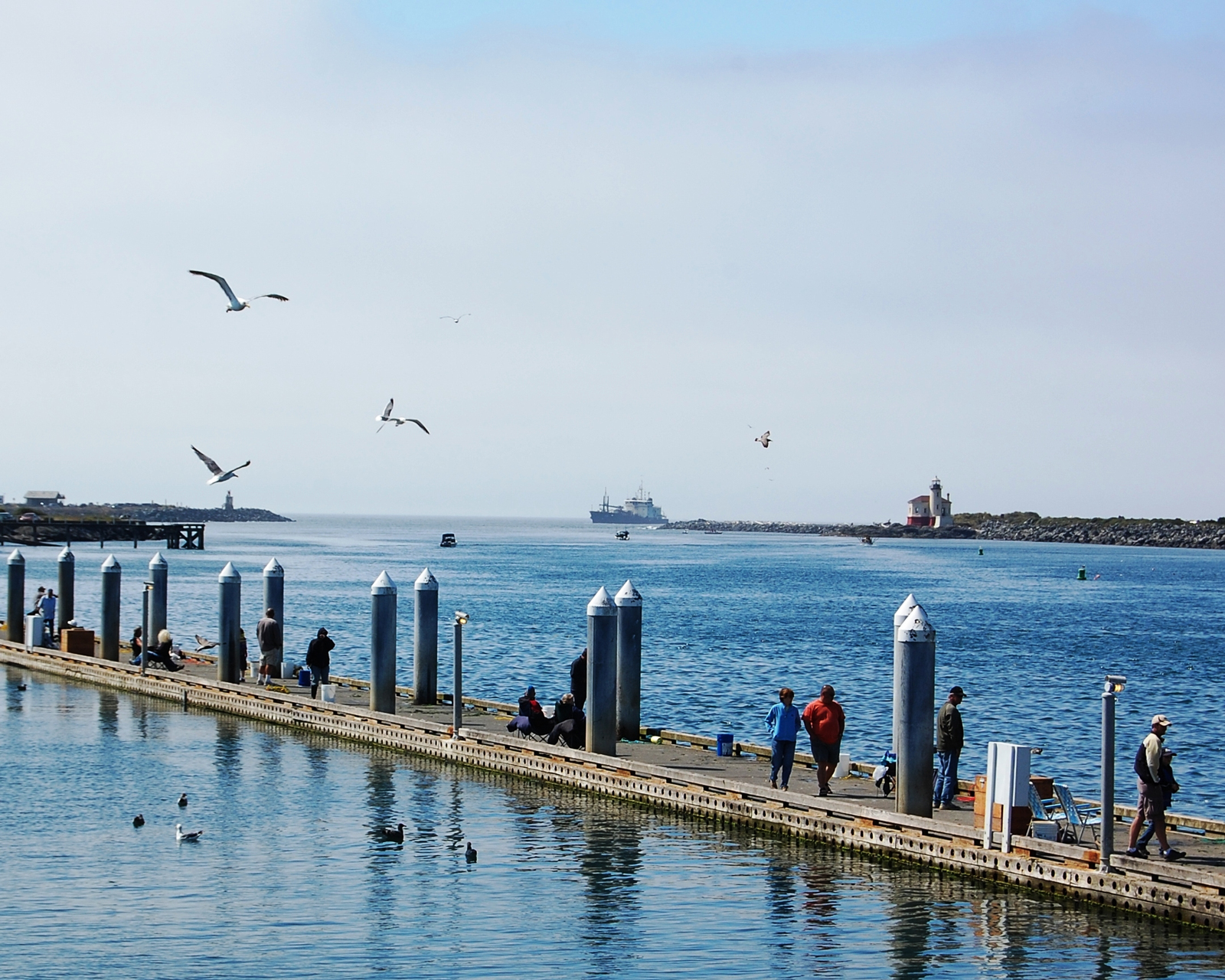 Old Town
Back in town, grab a lunch of fresh, local seafood on the Old Town Boardwalk at Bandon Bait or Bandon Fish Market. After lunch, walk across the parking lot to catch a view of the Coquille River Lighthouse from across the river. See how many shorebirds or pelicans you can identify while enjoying a stroll along the boardwalk and pier.
Beach Loop Road
Next, head to Coquille Point, which offers fantastic views of Oregon Islands National Wildlife Refuge.  The refuge is a network of protected rocks and islands and a habitat for more than a million nesting seabirds. Look for Cosmos the Puffin welcoming you to walking paths along the bluffs. Cosmos was created by Washed Ashore as an environmental-health ambassador, and is constructed solely from debris found on Oregon's beaches.
Further on Beach Loop Road, the Face Rock area is dedicated to the Tufted Puffin, which nests on the island from May to August. The puffin lives at sea most of the year, and often returns annually to the same burrow to breed.
Creature Comforts
Bandon offers a variety of overnight lodging, several of which put you close by birding hotspots.  See inset box below for birder-friendly suggestions.
After checking into your accommodations, try Edgewaters Restaurant for dinner. With clear views of the river, you can continue your birding experience while feasting on fresh local seafood, aged steaks, pasta, or more casual fare.
Day 2:
North of Bandon
Rise and Shine
Grab breakfast at Bandon Baking Company, then pack up the binocs and a picnic lunch from the bakery or Face Rock Creamery and head north to popular birding spots including Cape Arago, Charleston, and Millicoma Marsh. Habitats in these areas include the ocean, tidal flats, willow patches, and freshwater marsh.
Millicoma Marsh
To access Millicoma Marsh, head north on Hwy 101. On the south side of Coos Bay, turn east on Coos River/Allegheny Road and go 1.1 miles. Turn left on D Street, then continue 2 blocks and turn right on 4th Avenue. Go 500 feet and turn right on a gravel road to a small parking lot. The ~1 mile trail meanders through cattail marsh and woodlands, and is a good location to find species rarely seen in Oregon during winter.
Charleston
From the marsh, return to Hwy 101N, then turn left onto 1st Street/Kruse Avenue, left on 7th Avenue, and left on W Lockhart Avenue/SW Blvd. Drive 1.2 miles and turn right on Libby Lane for 5.6 miles to Cape Arago Hwy, which will take you into Charleston and the Charleston Marina Complex. The Charleston Boat Basin is a hotspot for gulls, cormorants, and a variety of other waterfowl.
Cape Arago
Head back south on Cape Arago Hwy to Sunset Bay State Park, Shore Acres State Park, Simpsons Reef Overlook and Cape Arago State Park. In addition to sighting many shorebirds and waterfowl, you will discover a network of hiking trails at Sunset Bay and Cape Arago, migrating gray whales in December and March at Shore Acres, as well as thousands of seals and sea lions at Simpson Reef. Return on Cape Arago Hwy to Seven Devils Rosd and head south to the South Slough.
South Slough
The South Slough National Estuarine Research Reserve has 5,900 acres of saltwater marshes and mixed conifer forest. Estuaries, where rivers meet the sea, provide stopovers for migrating waterfowl to feed and rest. The South Slough offers wonderful hiking trails, as well as creeks and marshes to kayak or canoe. For an up-close birding experience, guided paddling tours are available. (See box below.)  Duck into the Interpretive Center for exhibits, educational programs, trail guides, and bird checklists.
Day 3:
South of Bandon
On day 3, grab a hearty breakfast at The Station Restaurant, then head south to Curry County where you will find an abundance of key birding areas.
New River
Along the way, stop just south of Bandon at the New River Area of Critical Environmental Concern. Separated by only a thin strip of sand, New River runs parallel to the Pacific Ocean for nine miles. Located here are several miles of self-guided loop trails and an interpretive Nature Center where you can learn about the protected habitats. Many species of birds, animals, and plants rely upon the area's estuary, wetland, meadow, forest, and shrub habitat for survival. Bring along breakfast and dine at one of the several picnic tables at the Nature Center or along the trails.
Langlois and Sixes
Just south of World-Famous Langlois, follow signs to Floras Lake, a favorite stopover for migrating waterfowl and shorebirds. Especially notable are the Aleutian Cackling Geese which rest here in April while preparing for their migration north to the Aleutian Islands. You may also spot thousands of migrating shorebirds flying through. In winter, Tundra swans use the lake as a refuge.
Continue a few miles south on Hwy 101, then west on Cape Blanco Road. Cape Blanco Lighthouse, Sixes River Estuary, and Beaver Marsh offer opportunities to view numerous land and shore birds. Hiking trails near the lighthouse provide access to stunning ocean views and woodland birding.
A bit further south on Hwy 101 turn east on Grassy Knob Road. Eight miles up and off the beaten path, hike into the national forest and explore a coastal rainforest with huge old-growth Port Orford cedar. Spot hummingbirds, woodpeckers, and a variety of other woodland avian life.
Port Orford
Continue south on Hwy 101 to Port Orford, which boasts several impressive locations for birding.
Once in Port Orford, turn west on 18th Street and drive a short distance to the Pinehurst Fishing Dock and Mill Pond. In winter, you will spot many species of duck. Summer visitors include several water fowl, including Great Blue Heron. Dense vegetarian at Mill Pond attracts more reclusive wetland species.
From 18th Street, turn west on Idaho Street, then south at the Port Orford Wetland Interpretive Walkway sign. This short walkway crosses a small freshwater wetland, and includes several viewing platforms.
Follow 12th Street west to the Garrison Lake boat ramp. Bird from the platform at the ramp, or bring a canoe or kayak for ultimate viewing. With restrooms and a covered picnic table, this area makes a great spot for a picnic lunch.
From Hwy 101, follow signs to the Port Orford Heads State Park. Explore the hiking trails for woodland birds, and use the cliffs overlooking the port area to spot seabirds soaring past during migration. Summer brings Osprey and Peregrine Falcons.
Further south on Hwy 101, follow signs to the Port of Port Orford and park on right across from Fishermen's Memorial. Birds flock here to enjoy the ocean, rocky shore, dense willow thickets, and sandy beach. Winter storms occasionally blow in a rarely seen bird to the port.
Make a final stop at the Battle Rock Wayside on the south side of town. With one of the most scenic views on the Oregon Coast, watch for gulls, oystercatchers, vultures, and more. Harbor seals and sea lions live here, and migrating gray whales may be spotted in December and March.
Return to
Bandon
Before leaving Port Orford and Battle Rock, enjoy dinner next door at Redfish to continue your birding and ocean viewing in this very scenic spot. Or, head back to Bandon, perhaps stopping along the way at today's favorite birding spot for a last glimpse of dusk-loving birds. Back in town, stop off at The Wheelhouse Restaurant & Crowsnest Lounge for dining with a view of Bandon's port and pier.
As you retire for the night, be sure to start planning your next birding tour to the South Oregon Coast. Each season brings its own unique birding adventure.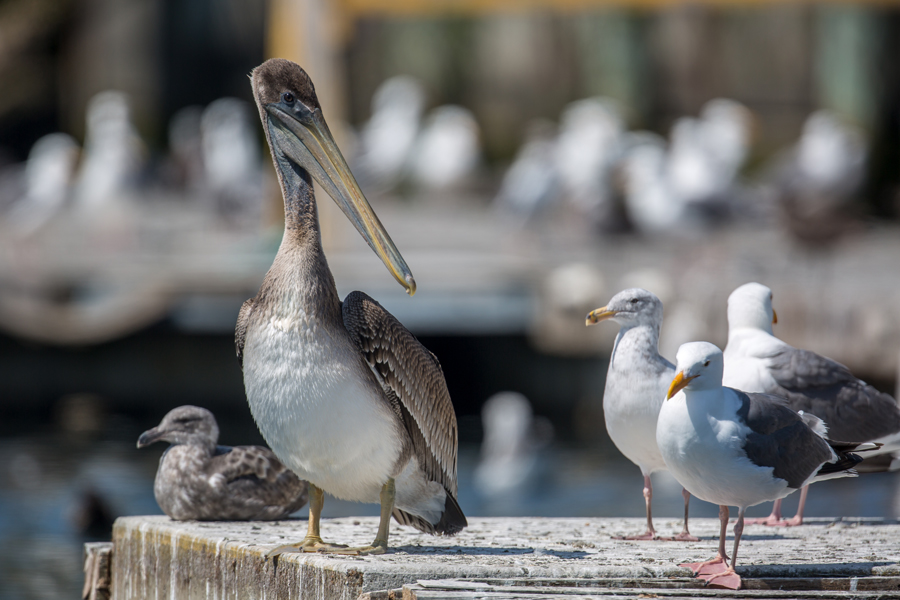 More Resources for
Birding in Bandon
Birds of a Feather
Find like-minded birders.  The Cape Arago Audubon Society hosts programs and outings in and around Bandon.
Shoreline Education for Awareness (SEA) interpreters share their knowledge of local birds, nesting, and habitats throughout the summer at Face Rock or Coquille Point in Bandon and at Simpson Reef in Charleston.
Festivals
Each April, SEA hosts the Tufted Puffin Party at Face Rock Overlook to welcome back this favorite, comical-looking bird to their summer nesting home.
In September, join the Cape Arago Audubon Society for the annual Oregon Shorebird Festival held in Charleston and the surrounding area.
Guided Tours
Bandon Coquille River Tour: For history, culture, ecology, as well as seal, shorebird, and migratory bird sightings, explore the Bandon Marsh US Fish and Wildlife National Reserve and paddle the Coquille river by kayak.
Rogue River Mail Boat Tours: Experience the lower Rogue's scenic beauty, abundant wildlife, and pristine wilderness.
Birder-Friendly Housing
RV parks with motel or cabin rentals with a connection to the outdoors include: Bandon Wayside Motel & RV and Beach Loop RV Park.
Several home rentals in Bandon offer bird-viewing opportunities.  A few include: The Captain's House Bandon, Maggie's Seaside Getaway, and Bandon Historic River House, which sits right at the mouth of the Coquille River and offers frequent sightings of many species of seabirds and eagles.
Seventeen miles south of Bandon, on Lake Floras in Langlois, is the Floras Lake House Bed and Breakfast. Along with kiteboaders on the lake, you may spot blue heron, osprey, and bald eagles during your stay.
Recent
Travel Blog Posts
Witness the Astonishing Beauty of an Annular Solar Eclipse! Attention all friends and astronomy enthusiasts! Bandon warmly invites you to our charming town on October 14, […]