Cycle and Hike

in Bandon


Go wild on the
Southern Oregon Coast
Easy access to wild places makes Bandon unique in the 21st century.
Public beaches, parks, wildlife reserves, bikeways and trails offer countless destinations for outdoor enthusiasts.
Though some may opt for truly deep woods exploration, many parks and trails are only a short drive from town. Even a quick jaunt along a quiet stretch of beach or forest trail can give the impression that you're light years from your typical routine.
Grab your water bottle, camera or binoculars, and enjoy the region's year-round natural wonder.
Cyclist 
Layover
Rest up and restock in Bandon. Cyclists traveling the Oregon Coast will find all the bike-friendly resources needed for the perfect layover. And, the compact geography makes it easy to get around by foot or bike.
Many local amenities make cyclists feel even more welcome. For overnight stays, Bullards Beach State Park maintains a hiker/biker camp offering storage lockers with solar powered USB charging ports.
Just need a quick rest stop? Park at the cycle stop on First St. in Old Town, next to Tony's Crab Shack, then walk to nearby beaches, waterfront, shopping and dining locations.
Stroll the beach. Relax. Upload your latest pics. No matter how you spend your time in Bandon, you'll hit the road refreshed and ready to climb back in the saddle.
Cycling 
Destinations
On the Road
Oregon is the proud pioneer of scenic bikeways— publicly supported cycling routes that traverse picturesque cultural landmarks.
The only scenic bikeway on the Oregon Coast, the Wild Rivers Scenic Bikeway is a 60-mile journey through some of the most appealing scenery in North Curry County. Ride past historic landmarks: Battle Rock, Cape Blanco lighthouse, Port Orford Coast Guard Museum, and Elk River fish hatchery. The ride starts and ends at Battle Rock Park in Port Orford, just 25 miles south of Bandon.
On the Trail
Cyclists and hikers get an up-close glimpse of a working Coos County forest at Whiskey Run Mountain Bike Trails. Explore tree stands in various growth stages in a forest that's home to a wide array of plant species. The trails are open all year with miles of single-track, two-way trails designed for beginner to intermediate difficulty. Find descriptions of each trail, including elevations, at MTB Project.
On the Beach
Ready to hit the sand? Fat tire bike riders are discovering just how fun it is to cruise Bandon beaches on two wheels. Oregon Coast beach rides mapped by Travel Oregon include a 19-mile Bandon fat bike beach ride. The route is easy to split into segments and rated moderately difficult. Highlights include stunning rock formations and splashy stream crossings.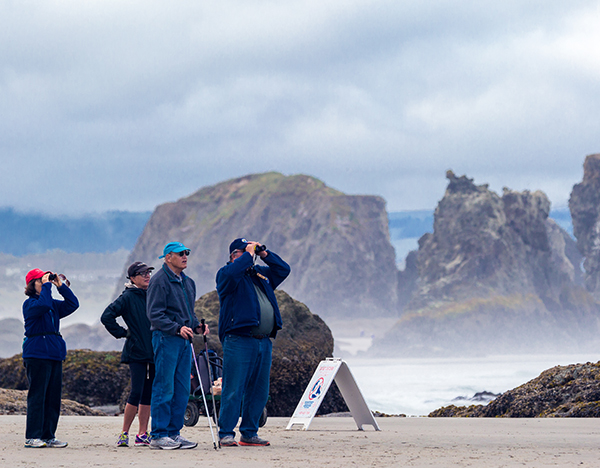 Events & 
Guided Tours
Join group walks, hikes and rides offered by Bandon area outdoor recreation and wildlife guides. Area outdoor rec services include guided tours, shuttles, bike rentals and a full service bike shop. Check the event calendar for events, or visit our business guide to book your own guided outing.
The Tour de Fronds is an annual cycling event hosted by the Powers Oregon Lions Club each June. Riders traverse Oregon's premier Glendale/Powers Bicycle Recreation Area. Routes include options from 30 to 101 miles.
Recent
Blog Posts
This year, more than ever, it's important to shop local. Many Bandon-area businesses are struggling to recover from the past two turbulent years. Some have even […]