Fishing

Bandon

One of the greatest things about sport fishing in the Bandon area is that there's something going on all year long, according to avid fisherman, columnist and local bait shop owner Tony Roszkowski.
Tony knows his fish– he's been in the bait, tackle and seafood business in Bandon for more than 30 years.
Learn more about fishing Bandon and the Oregon Coast on the Oregon Department of Fish & Wildlife website.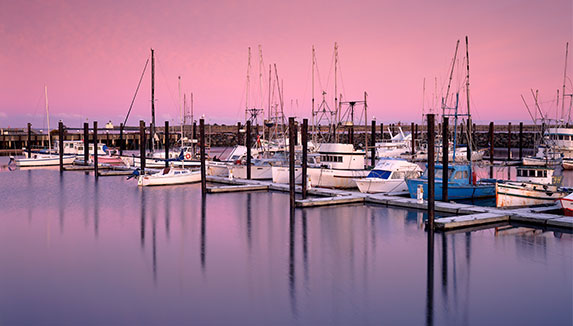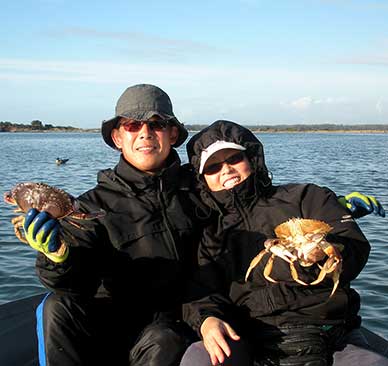 Year-round
Angling
Spring and Summer
The Pacific halibut season kicks off in May and is a local favorite fishery for recreational boaters and charter trips. Ocean bottom fish, salmon and tuna seasons run through the summer months. Bay crabbing and clamming are also popular. Fresh water fishing in lakes and rivers offers rainbow and cutthroat trout and Chinook salmon.
Fall and Winter
Fall is the best time of year to harvest Dungeness crab in the bay at Bandon and in the Empire-Charleston area of Coos Bay. Area lakes are stocked with rainbow trout at this time, too, and some bass also are available to freshwater lake fishers. Boat and bank fishers take advantage of winter steelhead runs.
Bandon
Hatchery
The Coquille River offers excellent Chinook and coho salmon fishing in the fall and winter and steelhead fishing from December through the end of the run, especially on the North Fork Coquille at Laverne Park and on the South Fork Coquille up to the city of Powers. Wood ducks can be seen year-round at the intake reservoirs. Swallows are common May – September. Herons and kingfishers are common year-round. Picnic tables are available at the hatchery. Visitors can view and feed large rainbow trout in a show pond, and can observe the spawning of salmon and steelhead October – March, usually Tuesday mornings.
Bandon
Tide Tables
Tides for Fishing
Find the best times for fishing in Bandon this week, along with high and low tides.
Daily Tide Tables
Check Bandon tide levels at the Nation Oceanic and Atmospheric Association website. NOAA provides daily tide tables and predicted levels for upcoming months.
Events
Check the summertime event calendar for annual Bandon crab and salmon derbies.
The free, family-friendly summertime lecture series hosted by the Port of Bandon often includes interactive workshops on harvesting shellfish.
Additional
Resources
For more information on Oregon sport fishing and shellfish harvesting, please refer to the following resources.
Oregon Sport Fishing Regulations
Recent
Blog Posts
Following in our ancestor's footsteps, the Irish-named town of Bandon, Oregon will be among the first to record this year's annular solar eclipse when it reaches the United States on October 24.