Cycle and Hike

in Bandon

Go wild on the
Southern Oregon Coast
Easy access to wild places makes Bandon unique in the 21st century. Public beaches, parks, wildlife reserves, and Southwestern Oregon's first scenic bikeway offer countless destinations for outdoor enthusiasts.
Though some may opt for truly deep woods exploration, most parks and trails are only a quick drive from Bandon.
"You're less than a mile from the nearest farms, but you feel like you're light years away," said Bandon writer and photographer Nick Martin.
He's hiked countless miles of beach, from the Coquille River in Bandon south to New River, with only wildlife for company.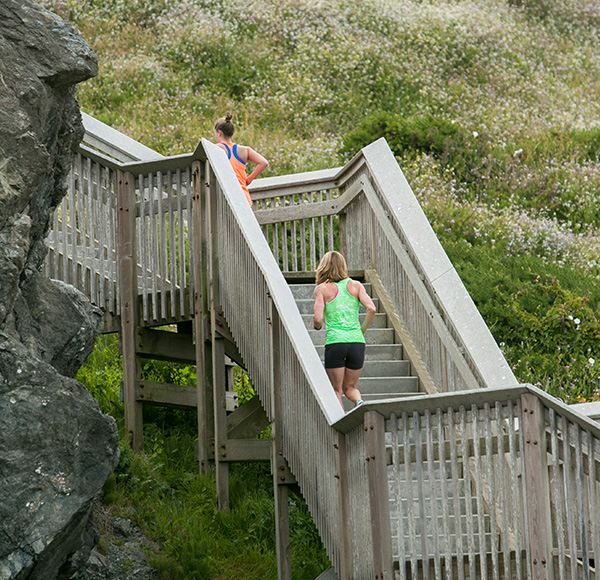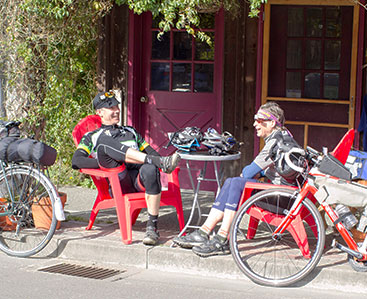 The Perfect Layover for 
Coastal Cyclists
Rest up and restock in Bandon. Cyclists traveling the Oregon Coast will find all the amenities for the perfect layover.
Bandon has bike-friendly resources, and the compact geography makes it easy to get around by foot or bike.
New installations make cyclists feel even more welcome: A cyclist section was unveiled at Bullards Beach State Park in 2014, and the First Street cycle stop in Old Town Bandon lets cyclists park and walk to the beaches and waterfront, shopping and dining.
Stroll the beach. Relax. Upload your latest pics. No matter how you spend your time in Bandon, you'll hit the road refreshed and ready to climb back in the saddle.
Destination: Wild Rivers 
Scenic Bikeway
Oregon is the proud pioneer of scenic bikeways—publicly supported cycling routes that traverse some of the state's most picturesque and historic landmarks. The Wild Rivers Scenic Bikeway, just 25 miles south of Bandon, was approved and announced in the summer of 2015.
The route is a 61-mile journey through some of the most appealing scenery in North Curry County and takes riders past cultural and historic landmarks: Battle Rock, the Elk River fish hatchery, Cape
 Blanco Lighthouse and the Port Orford Coast Guard Museum, to name a few. The ride starts and ends at Battle Rock Park in Port Orford.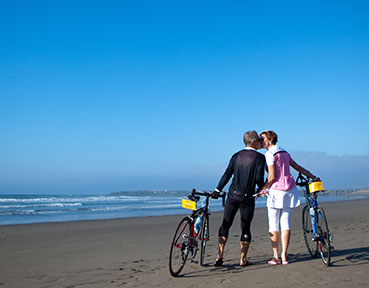 Events
Take part in casual group rides offered by Bandon fitness and cycling professionals. Check the event calendar spring through fall for event details.
The annual Kiwanis Doernbecher Memorial Bicycle Tour takes place in May. Choose from three out and back ride options through Oregon's beautiful countryside. Find more information at KDCCP.
The Tour de Fronds is an annual cycling event hosted by the Powers Oregon Lions Club each June. The ride transverses Oregon's premier Glendale/Powers Bicycle Recreation Area. Choose from multiple ride options, from 30 to 101 miles. Information and registration at Tour de Fronds.
Recent
Blog Posts
Bog Trek! Boldly Go Where No Cranberry has Gone Before Welcome to the 2018 Bandon Cranberry Festival, presented by the Bandon Chamber of Commerce. Friday, September […]