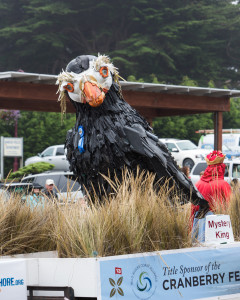 The Washed Ashore eco art project is making waves around the country with larger than life marine sculptures made of tidal debris.
From a distance, sculptures such as the award-winning Cranberry Festival parade puffin look like colorfully stylized birds, fish and other marine life. Up close, sculptures reveal countless pieces of plastic, rubber, glass or metal reclaimed from nearby ocean beaches. The touchable, movable, musical Washed Ashore experience excites conversation about art as a medium for social awareness.
Executive director and lead artist Angela Haseltine Pozzi , and her growing team of collaborative artists, collect beach litter, especially plastic and Styrofoam. Then they fashion sculptures.
At the opening celebration for the Bandon installation in 2013, Pozzi thanked artists of all ages for their contribution to "artwork that sends a message about how important it is to change consumer habits and make the ocean and beaches a safer place for sea life and for us all."
Washed Ashore installations have toured the country at museums and marine centers, such as Sea World and the Smithsonian National Zoological Park. Pozzi was honored with an NPR eTown E-Chievement Award for her creative approach to marine education.
When you visit
Plan to roll up your sleeves and dive into Washed Ashore with a visit to the Bandon exhibit.
Join a workshop. Volunteers are invited to contribute, fashioning cleaned and sorted debris into new sculptures.
Takeaway

Grab a one-of-a-kind souvenir to commemorate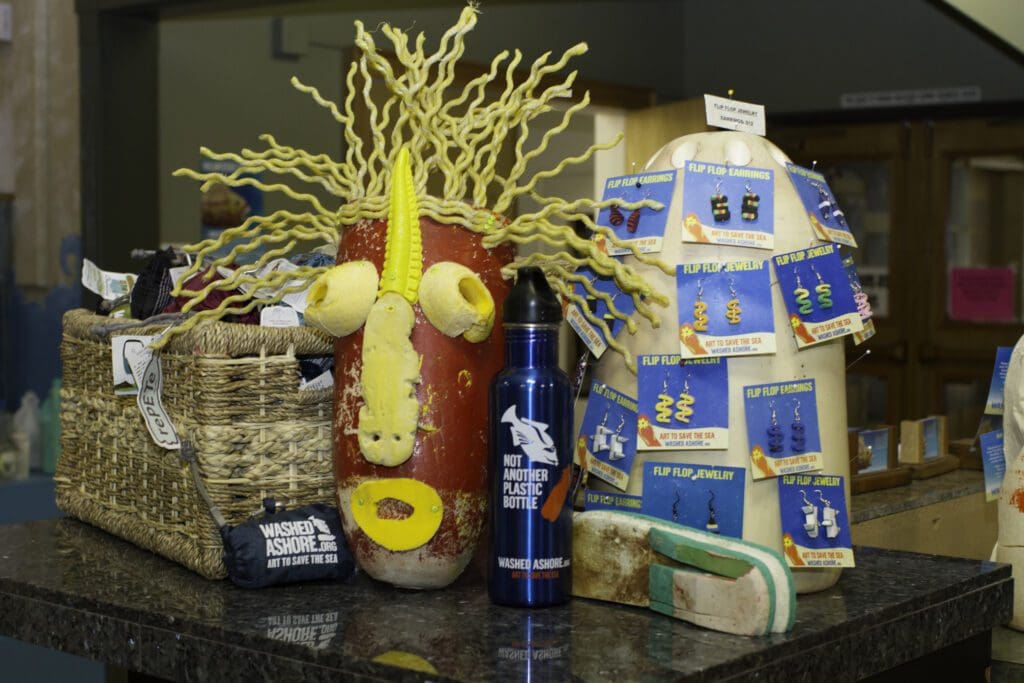 your visit. Gift shop items include, jewelry, marine debris masks, plus eco-friendly accessories. Your purchase supports ongoing community
education about marine debris and plastic pollution.
Washed Ashore
Harbortown Events Center
325 Second St SE, Bandon
541-329-0317
---
Images: (puffin) Cardas Photography; (mask & souvenirs) Geneva Miller.