The Bandon Police Department received contributions from Bandon rental owners in 2015 to support the Bandon K-9 unit.
Sgt. Larry Lynch accepted the donations from property managers Dave and Eileen Schradieck, with black lab Reckless at his side. The group donation represents contributions from the Schradiek's clients and businesses, Bandon Beach Vacation Properties, and Bandon Beach Vacation Rentals; plus owners of long term rentals managed by Bandon Property Management.
"Every year, I try and make a donation to the Bandon Police Department. I like donating to the K-9 department, which helps keep drugs out of our schools and community," Dave wrote in an email to VRD and long term rental owners.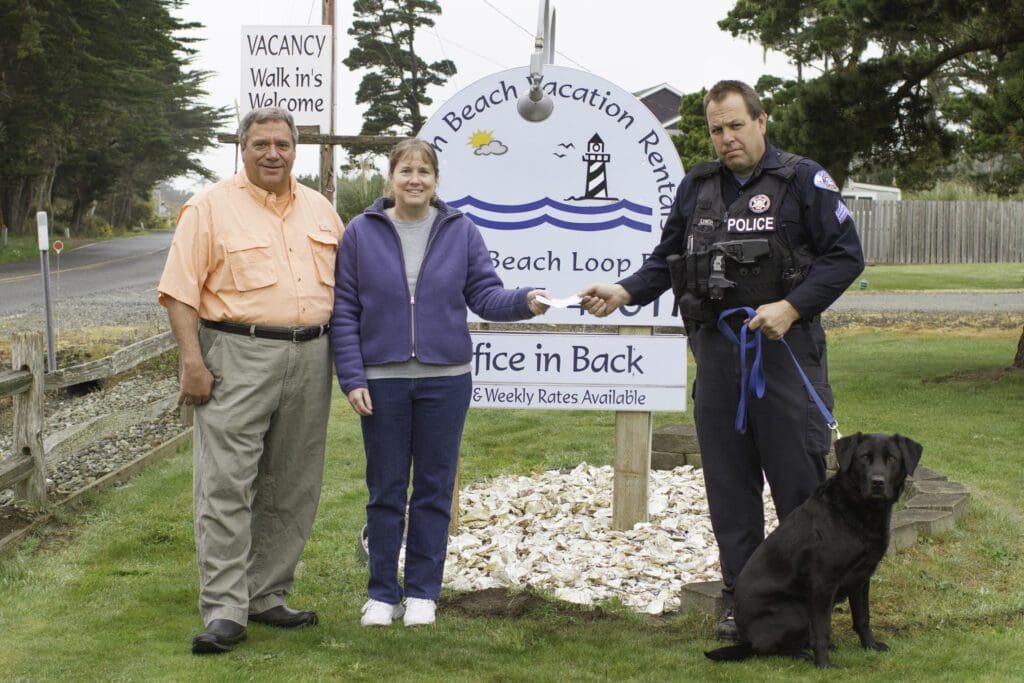 The Bandon K-9 unit is a community supported program, jump-started by donations, explained Lynch. While Lynch's salary is publicly funded, the cost of care and continued training for Reckless is covered by donations.
The Schradiecks also support the program by offering vacation rentals as K-9 training sites, explained Lynch.
Dogs can easily memorize properties and floor plans, so training in a variety of locations is important. Reckless is certified as a four-odor dog, able to locate four separate illicit drugs by scent. Lynch and Reckless train weekly and undergo recertification with the Oregon Canine Association annually.
"He's never failed certification, and I'm really proud of that," said Lynch.
For the Schradiecks, donations are a thank-you for the support they receive from the police department. Police officers respond to alarm calls, keep an eye out for transients or simply help visitors by offering directions around town.
---
Photo by Geneva Miller.