Bandon Cranberry Festival Event Registration

Join the longest-running festival on the Oregon Coast!
Bandon's annual harvest festival started in 1947. The festival draws the largest attendance of any Bandon community event, with as many as 15,000 residents and visitors in town through the weekend. Cranberry Festival activities as well as food and vendor market areas are centered in Bandon's Historic Old Town on the Coquille River waterfront.
Download information and register for Artists, Crafters, and Food Vendor Booths; Nonprofit Booths; Parade Entries; the Cranberry Kitchen Contest (formerly known as "Queen of the Kitchen"); and Treasure Chest Raffle Donations.
Feel free to contact the Bandon Chamber of Commerce for more information.
Vendor and Nonprofit Booth Space
Festival Marketplace Hours: 10 a.m. to 5 p.m. Saturday; 10 a.m. to 4 p.m. Sunday.
Friday evening vendor set-up is encouraged.
We welcome applications for booth space from artists and hand-crafted product vendors, as well as food and beverage vendors. In order to maintain the quality of our festival, all booth entries are juried and the number of entries is limited.
Artists and Crafters – Application Information
Artists and Crafters – Online Application Form
Food and Beverage – Application Information
Food and Beverage – Online Application Form
We invite nonprofit organizations to take advantage of complimentary booth space at the Bandon Cranberry Festival in exchange for providing a family-friendly activity.
Nonprofits – Application Information
Nonprofits – Online Application Form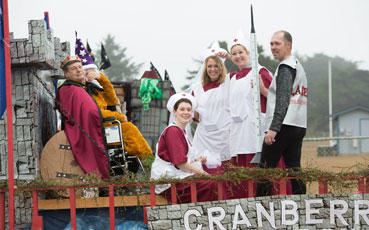 Festival Parade
Parade check-in time TBD
Bandon High School, 550 9th St. SW, Bandon
Parade Participation Info – Information will be posted after registration is announced
Parade Registration Form – 2021 registration to be announced
We welcome businesses, organizations, and individuals to join the Bandon Cranberry Festival parade. Parade entries should be appropriate to each year's festival theme. Entries are eligible for prizes, with ribbons given for 1st, 2nd, and 3rd place in each parade category, and a Grand Marshal award. (There are no cash prizes.)
Cranberry Court
The Cranberry Court is an opportunity for Juniors from Bandon and Pacific High Schools to earn scholarships, gain life skills, and become representatives for the Bandon Cranberry Festival.   Throughout the year, the court will make many public appearances at events around Coos County.  They will also receive training to refine their skills in public speaking, talent, and pageantry, to ultimately compete to be crowned as Cranberry Queen at our coronation ceremony.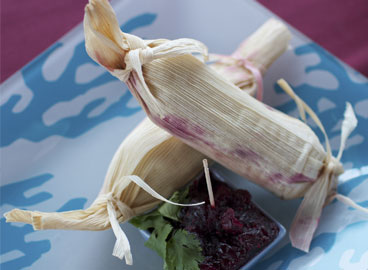 Cranberry Kitchen Contest
Location to be determined.
Cranberry cooks of all ages are invited to whip up something tasty to showcase during the Cranberry Festival. Contestants may enter in any of seven different categories with sweet or savory dishes. First, second, and third place ribbons are awarded and the overall winner is crowned Queen or King of the Kitchen.
Contest Information – Information will be posted after registration is announced
Contest Registration – 2021 registration to be announced
Other Festival Activities & Contest Info
Treasure Chest Raffle Donations – Showcase your Bandon business with a donation of a gift certificate and/or items you offer for sale. Raffle participants who win your donation are enticed to visit your business to see what other wonderful products you have. Requested donations are normally of a value of about $20., or more if you choose. Cash donations are not requested.  CLICK HERE for donation information and to fill out a registration form.  Thank you!
Participants for the Cranberry Eating Contest and Corn Hole Contest can register at the festival.
Show Your Car (formerly Cruise-In Car Show) Old Town, non-hosted event, talk about and show off your car!
Become a Festival Volunteer! – CLICK HERE!